We Rank #1-2 For SEO in Gainesville FL
That's Why Our Reputation For Ranking Websites #1 & On The 1st Page Proceeds Us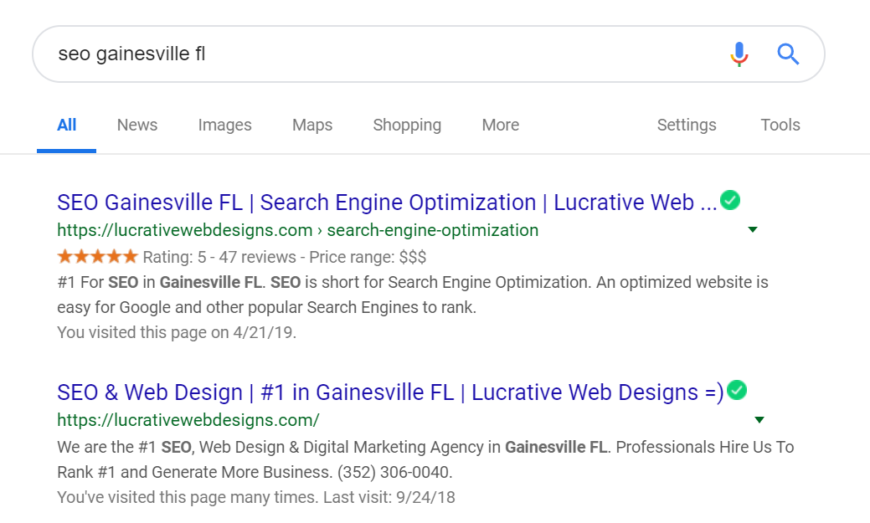 What is SEO?
SEO is short for Search Engine Optimization. Website that are optimized are easier for Google and other popular Search Engines to rank. But before we get into further detail, let's discuss why you're here. You also want to rank #1 for your most competitive keywords.
What are the benefits of SEO:
Long-term Results
Brand Authority & Awareness
Online Visibility
More Revenue
Ranking #1 on Google for competitive keywords involve on-page & off-page optimization: link building, mobile friendliness, SSL, page speed, internal linking, social signals, citations, etc…
Beware of SEO Scams
SEO isn't cheap or easy. There are a lot of companies promising SEO results for as little as $200/mo. I assure you that the amount of work required to rank a website on the first page of Google for a competitive keyword will cost more than a couple hundred dollars. In fact, the average cost is around $1200/mo, however, the return on investment could be as much as 10x.
Performing an SEO Audit
In order to rank higher in search engines, we will need to determine exactly what's preventing your website from ranking higher in Google. In addition to auditing your website's performance and search engine optimization, we also need to do a competitor analysis. Spying on your competitors and performing an SEO audit on their website will tell us everything we need to know in order to outrank them.
After gathering the information we need, it's time to comprise a an on-page and off-page SEO strategy.
On-page optimization:
Title Tag
Meta Description Tag
Proper URL Structure
H1 Tag
Alt Tags
Page Speed
Keyword Density
Schema Markup
User Friendly Navigation
Quality Content
External Links
Off-Page optimization:
Link-building
Reviews
Social Signals
Off-page SEO is for increasing organic rankings, PageRank & domain authority.
SEO & Domain Authority
Domain Authority is an extremely important ranking factor for SEO. Domains with high authority such as Avvo, Yelp, AngiesList, HomeAdvsior explain why they are capable of outranking websites organically even for local searches.
Increasing your domain authority is a fast and sure way to outrank your competition. A link-building strategy increases domain authority which increases rankings and higher rankings equals more traffic to your website.
Using Social Media to Improve SEO
Posting on Social Media doesn't "directly" improve your website's SEO. The goal is to use social media to increase your brand awareness. Once people know who you, when that time comes when they need your services they will search you on Google boosting your CTR.
Google will identify you as a brand once enough people search you on Google. Increasing your brand awareness also increases your online visibility which increases your website's search engine optimization.
Best SEO Agency in Gainesville
Lucrative Web Designs LLC is one of the best SEO Agencies in Gainesville, FL. We have a reputation of ranking brand new websites on the 1st page of Google in less than 45 days using white hat SEO techniques. If you want to rank #1 for competitive keywords in your industry, give us a call at (352) 306-0040.
Keywords We Ranked on Page 1