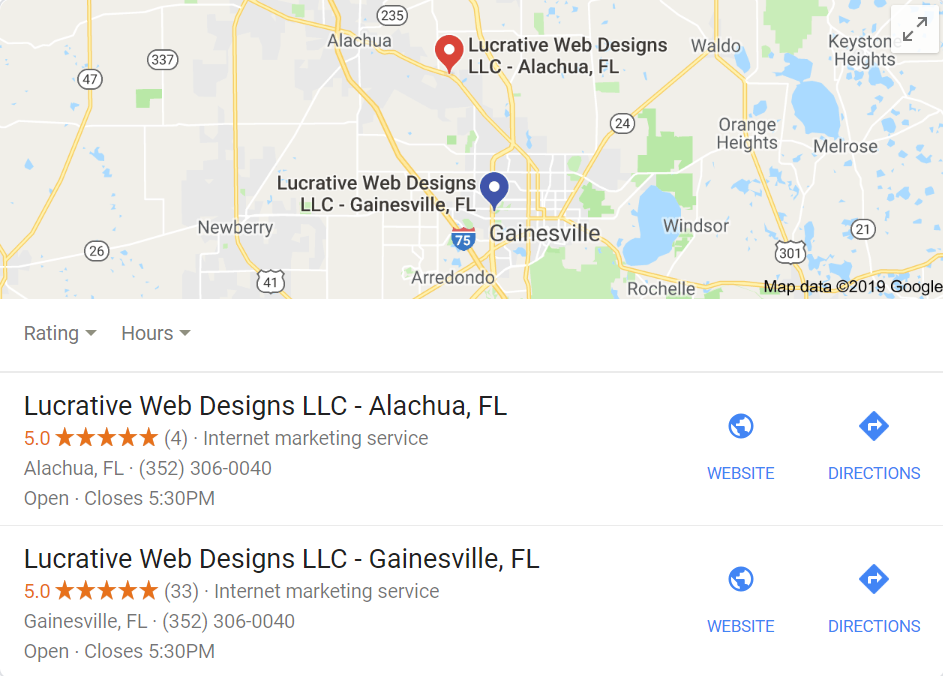 Wanna Rank Above Your Competitors in Google Search Results?
Ranking above your competitors require SEO which stands for Search Engine Optimization. Websites that are optimized communicate more effectively with search engines than websites that aren't search engine optimized.
For example, we want to rank #1 for the search terms "Gainesville SEO" and "SEO Gainesville FL." Someone that is looking for a local SEO Agency would type that exact or similar phrase into Google and of course we want to be front and center. Therefore, we optimized this page to rank #1 for "SEO Gainesville FL."
However, Ranking for competitive keyword and search terms can be difficult for ammeters. There are over 300 SEO factors for determining PageRank.
Your website's position matters
Nearly 95% of people use the Internet to search for local services or shop online. The challenges most professionals/businesses in Gainesville FL face is not ranking on the 1st page of Google within their niche. 97% of people won't visit page 2 of Google.
If your website doesn't appear on page 1 for the search terms you should be targeting, you do not exist. Online visibility is the only way to scale your business. Using SEO to rank your website above your competitors in Gainesville require special skills.
SEO Audit: Keywords
Researching keywords is the first step when performing an SEO Audit. Identifying keywords and search terms you should rank for isn't as easy at it may seem. 90% of the time, what you would type into Google to find your business is unlikely what others would type in to find your business which is why keyword research is the initial step in any SEO campaign. If you are not targeting the "right" keywords and search terms, you SEO efforts are pointless.
SEO: On-Page Optimization
On-page SEO is also commonly known as onsite optimization. On-page optimization involves technical SEO such as: increasing page speed, submitting sitemaps, configuring a robots.txt file, adding keywords in their appropriate places, writing quality content, permalink structure.
SEO: Off-page Optimization
Link Building Strategy
Link Building: Links on other websites pointing back to yours is called a backlink. Backlinks are an important ranking factor because they act as "votes." Quality backlinks have more weight than cheap backlinks so it is important to acquire backlinks from relevant websites with high a Domain Rating.  You can acquire backlinks from business directories like Yelp and AVVO or Socal Media. The most powerful backlinks come from blogs with high domain authority.
Gainesville SEO Company
We are an SEO Company located in Gainesville, Florida. We help businesses dominate the 1st page of Google via SEO, Google Maps, PPC. We've put hundreds of websites on the 1st page of Google for thousands of competitive keywords.
Free Gainesville SEO Audit
Give us a call at (352) 306-0040 to schedule a DEMO and SEO Audit.